India's Wildlife
Throughout India's Wildlife, the Tiger has been an omnipresent entity, be it religious sentiment, environmental consciousness or simply as an ecotourism draw. Other big cats followed too, of course, such as Ladakh's enigmatic snow leopard, or the panther of the plains.
However these cats, and indeed, much of India's megafauna, are but a small piece of the puzzle that is Indian biodiversity. With some of the most fertile regions in the world, and at least 2 or 3 new species of wildlife being discovered every year, this resplendent country has a lot more to offer. 
Birds Of A Feather : Pale Billed Flowerpecker Image Credits – commons.wikimedia.org/
For the more ornithologically inclined, India is second to none. With nearly 1500 species and counting, India's avifauna is beautiful, varied and charismatic. From the Pale Billed Flowerpecker, the smallest bird that's the size of a thumb, to the great Griffons of the Himalayas, whose wingspans can reach 10ft in length. India also has a large selection of endemic birds; species that cannot be found anywhere else. Great Pied Hornbills that soar across the canopy to forage for figs, or the Malabar Whistling Thrush, whose call sounds melodious but alarmingly human, and so many more.
And the hotspots? The lush, towering western ghats, or the marshlands of central India, or the hills of the Northeast. Even India's urban spaces have recorded nearly 200 species of birds throughout the year.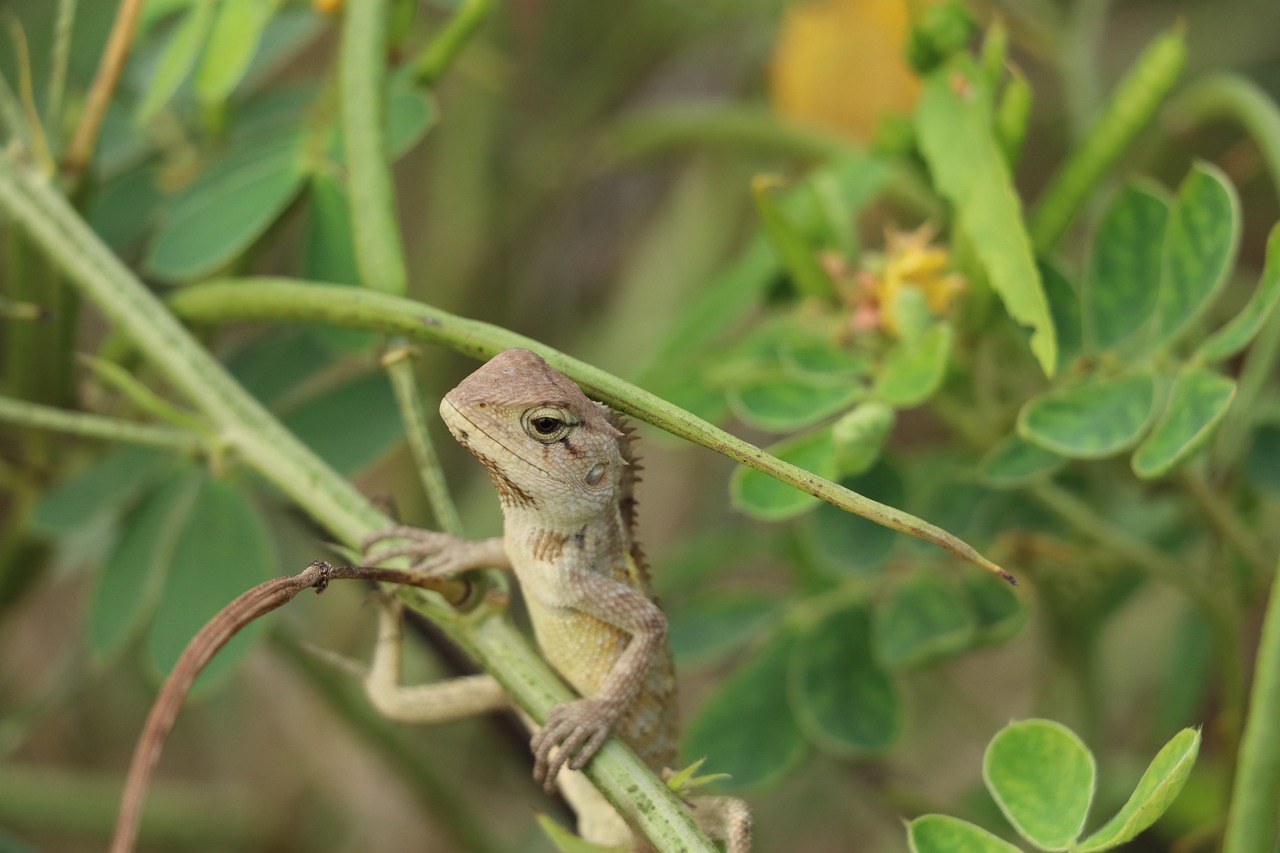 Land Of The Reptiles : Garden Lizard Image by Kailash Kumbhkar from Pixabay
India does not lack when it comes to its cold-blooded friends either. The country is home to nearly 610 species of reptiles, including 270 species of snakes, 200 odd species of lizards, 34 species of turtles and much more. The most enigmatic of these, the King Cobra, lives mainly in lush evergreen vegetation: The Western Ghats in the South, and the 7 Sisters of the Northeast. Apart from the King, India also lives with the Big 4: Venomous Snakes that are common throughout the country. Monitor Lizards are a flagship species as well, being much more distributed across the country.
However, one of India's star reptile attractions is the turtle. Olive Ridley turtles come to nest on India's coasts every year, taking part in an "arribada", an ancient nesting ritual where they lay their eggs on the shore and depart, leaving the young ones to hatch and rush to the sea by themselves.  
Star Vacations has curated the most unique and luxurious camps and jungle retreats with unparalleled expertise in the ways of the Indian Jungles. Travel with us to some of the remotest and pristine forests to know the jungle that exists beyond the big cats. Please fill out the form, or Contact us  +91 9582896591 We will get in touch with you to discuss the details.