Cuisine of the Maldives – The Maldivian cuisine is based on the three main whales of the coconut, fish and rice which when they come together or separate, form the fundamental basis of the delicious Maldivian food or the Maldivian cuisine. Traditionally and historically, Maldivian food has always had Indian and Arabian flavours. Many flavours also come from Kerala and Sri Lanka that add to the spiciness and make the food really hot. Chillies, onion juice, basil leaves and lime juice are added in many different recipes. Tuna is a major marine contributor to the Maldivian cuisine and is the very main highlight of the Maldivian dinner table and there are many amazing dishes that arise from it. Other major fish eaten in the Maldives are Wahoo, Mahi  and the Big Eye Scad which are a favourite among the locals and the tourists. Coconuts are a major part of many dishes in the Maldives and can be eaten in grated form, as milk or as coconut oil which is used to deep fry foods. Some really popular dishes include the Garudiya, the Rihaakaru, Theluni Mas and Filuni Mas. Rice is eaten boiled or fried, and there also tubers used in Maldivian cuisine. Taro, sweet potatoes and Tapioca are used as bread, which are eaten fried. Flat bread, called 'roshi' – is a traditional food of the Maldivians. It resembles an Indian chapati or paratha. The recipe involves three cups of flour, three tablespoons of vegetable oil, one and a half teaspoons of salt and warm water. All dry ingredients are mixed and warm water is added. Knead the dough, form a small cake and then fry it in the pan without oil. The main drink in the Maldives – tea, consumed with lots of milk and sugar. Coffee was widely spread, mostly Arabic, but like all imported products it's quite expensive here. When hot, fruit juices, local sweet milk, sweet palm juice, 'sudja' drink and low alcohol punch 'gaa' from fermented palm milk are very good ideas
Cuisine of the Maldives – Traditional Maldivian Dishes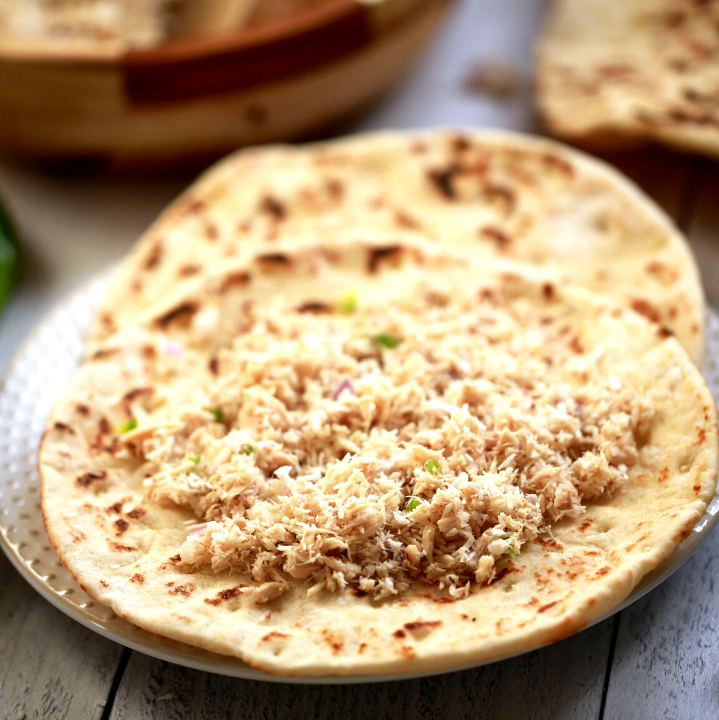 1) Mashuni ( Maldivian Breakfast ) – The most common breakfast among the people of the Maldives is known as The Mashuni, which is a mixture of tuna and coconut. A puree of onion, capsicum, lemon juice, pepper and salt combined with smoked tuna meat beaten to a pulp , mixed well and with coconut pulp added to it. It is eaten with Roshi bread. Sometimes the dish is baked inside the Roshi bread and this dish in the form of a golden crust resembling round pies is known as Masroshi.
2) Maldivian Curry – The exact proportion and perfect combination of spices is required to achieve the perfect flavour of the Maldivian curry when being cooked. The spices create color in the dish as well apart from the taste which is of extreme importance as well. Curry is a popular dish in the Maldives, which came to the islands from the South of India and Sri Lanka, but the people of the Maldives made them their own. Curry contains turmeric, salt, chili, coconut pulp and milk, onions, ginger, cinnamon, green mango pieces and tuna fish. All ingredients are mixed in a specific order and cooked on fire. Dhon Riha or Maldivian tuna curry is one of the most popular, and is eaten with Roshi or rice.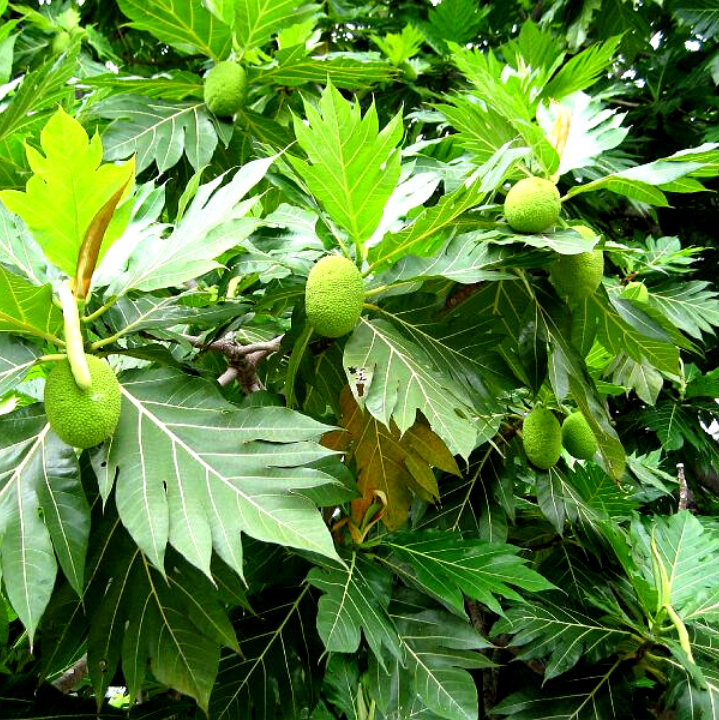 3) Breadfruit – ​Breadfruit is used to make curries, desserts and snacks. A popular breadfruit curry is called Banbukeylu Harisa. One small breadfruit is peeled, crumbled, and fried until soft, like mashed potatoes. Next, melted butter, chopped onions, pandan leaves and red curry paste are added. Everything is mixed and fried until golden. Then add the remaining onions, red chili pepper, two teaspoons of salt and two spoons of lemon juice. In the end, the whole mixture combines with tuna and turmeric, and is boiled for a while. The dish is served with rice or roshi.
4) Grilled fish and fish pie in Maldivian style – Fihunu Mas is a grilled fish in Maldives. A popular food is cooked very simply. The fish, usually a small tuna, will be gutted, deep cuts are made along the sides where a special mix of spices and salt is rubbed in, which also treats the insides. Then it is spread on a hot barbeque and your delicious meal is on its way. There is another fish cake named Bis Keemiya, which is basically tuna stuffed with other fish, boiled eggs and cabbage. The pre- cooked filling is then placed in a dough and triangular shaped patties are deep fried.
5) Desserts – Delicious desserts are also made from the breadfruit. Banbukeyo Bondibai consists of a portion of breadfruit, sugar and coconut milk. The whole mixture is stewed until thickened. Another popular dessert is Dhonkeyo Kajuru or fried banana pie. For preparation use ripe bananas, sugar, flour and coconut pulp. The mixture, sometimes with the addition of vanilla, is deep-fried until golden brown.
Cuisine of the Maldives – The Drinks
Cuisine of the Maldives – The Drinks – Local people enjoy dry law, but alcohol is served in tourist resorts. Tea is one of the favorite drinks among the islanders, and it is brewed in several delicious ways. Maldives also love to drink fresh coconut juice and Raa, a special type of punch that is made using palm wood.
Star Vacations is currently in the seaside mood, and we've got special offers for luxury Maldives vacations just for you. Plan the perfect Maldives vacation and add a Maldives diving course, Maldives Snorkeling, Maldives Submarine Tours,  Marine life in the Maldives, Cuisine of the Maldives, to your itinerary to spice up your trip!
Please fill out the form and, We will get in touch with you to discuss the details of Resorts in Maldives . Or  contact us  +91 9582896591
Mashuni ( Maldivian Breakfast ) Image Credits – everybodyshops.com
Maldivian tuna curry Image Credits – greatbritishchefs.com
Breadfruit Image Credits – betweenshores.com
Grilled fish and fish pie in Maldivian style Image Credits – maldives-magazine.com
Dhonkeyo Kajuru Image Credits – lonumedhu.com