What's the first destination that comes to your mind when planning a luxury trip within India? Most of us wonder about the vast mountain stretches in Himachal or the expansive Thar desert. But what if we told you that within our very own country there lies an entirely different world far away from the trenches of civilization? 
The Northeast of India can take you on a journey, a unique expedition like never before, with unique sights, unique people, and unique experiences like no other place in the world. Northeast India is often the least visited part of India, a fact that we take for granted but also an unfortunate reality owing to its somewhat difficult transportation network. The entire region shares a border with Bhutan, China, Bangladesh, and Myanmar. What are these states, you ask? The Seven Sisters of India that consist of Assam, Tripura, Meghalaya, Manipur, Nagaland, Arunachal, and Mizoram. Sikkim joined this band of states in 2008, so now there are Eight Sisters! 
With so much diversity to immerse yourselves in, the northeast of India makes for the ultimate luxury getaway with family, with new experiences and new emotions to offer. Here's your ultimate travel guide to Northeast India when visiting Northeast India in 2021! 
Assam:
Assam is the only flatland state out of all "sisters". It is located on the Brahmaputra river valley alongside the Eastern Himalayas. With its wide collection of tea plantations, scenic getaways, and wildlife parks with special beings, Assam serves as a great first taste when visiting Northeast India in 2021, which is why we've added it to this travel guide to Northeast India.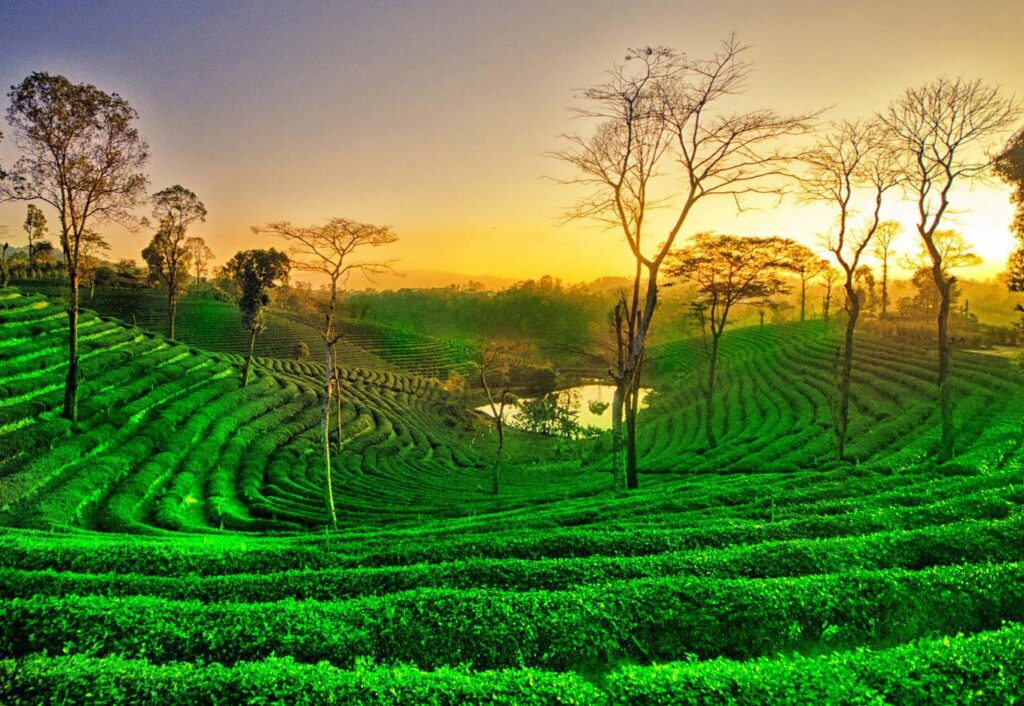 Image Credits: Incredible North East India
Assam is well connected by flights, trains, and roads; it is one of the only Northeast states where all major travel options are available. You can fly in via most major Indian cities to the capital city, Guwahati. The road network is decently maintained too, although there will certainly be bad patches owing to the lay of the land. Guwahati's rail network is also accessible by most major Indian cities; several trains run regularly from Delhi to Guwahati. 
When it comes to things to see in Assam, there is something for every kind of traveler. For the explorer, Kaziranga and Manas National parks should be no stranger. These massive parks are the strongholds for a unique variety of wildlife including the iconic One-Horned Rhino. Kaziranga is of course a UNESCO world heritage sight, while Manas is slightly more ubiquitous. You also must explore Guwahati itself; the various markets where interesting fare like king chilies and a variety of meats are sold make for an interesting afternoon! 
The Radisson Blu in Guwahati or the Vivanta are both excellent choices for your stay in Assam. For a more exclusive retreat, the Iora Retreat near Kaziranga makes for the perfect getaway in Assam. 
Arunachal Pradesh:
 To the north of Assam lies one of the most enigmatic states of India, Arunachal Pradesh. This land is blanketed in culture and tradition that has gone unchanged for thousands of years. A state with multiple kinds of terrain, nearly 500 species of orchids and so much more. Assam is also home to more than 20 tribes, making it one of the largest indigenously populated states of India. Arunachal is where you truly start getting a feel for the Northeast, hence its inclusion in this travel guide to Northeast India. 
Image Credits: The Telegraph India
The major transit hub for visiting places in Arunachal would be Itanagar, around 400km from Guwahati. Roads in Arunachal are mixed, with good and bad stretches everywhere. Thus, let your tour operator take care of transportation by hiring you a comfortable luxury SUV to take you across the tricky paths. However, there is some rail connectivity to Arunachal as well with a few lines from Guwahati. 
Arunachal is renowned for its wildlife and its festivals. The Eaglenest National Park hosts nearly 450 species of endemic and migratory species including the iconic Hornbills with nearly 6 species residing in the canopies. The Sessa Orchid Sanctuary is where you can find some of those 500 species of orchids, and maybe even discover a new species yourself. The forests of Ziro are where the Ziro Music festival takes place every year, a must-visit when going during the season. And finally, at a great distance from Itanagar lies Tawang, the largest Buddhist monastery in India. 
The Abasa Homestay near Ziro provides the perfect Arunachal experience when staying in this vibrant state. 
Meghalaya:
Below the state of Assam lies the abode of clouds, Meghalaya. It is one of the smaller states of the region and indeed India itself, but that does not mean there are few things to see in Meghalaya. Indeed, the number of hidden treasures this state offers is second to none. Meghalaya is also one of the wettest places on Earth owing to its lush vegetation and rolling hills that trap the Northeast monsoon every year. The state is home mainly to the Garo and Khasi populations, indigenous groups that have been around for centuries.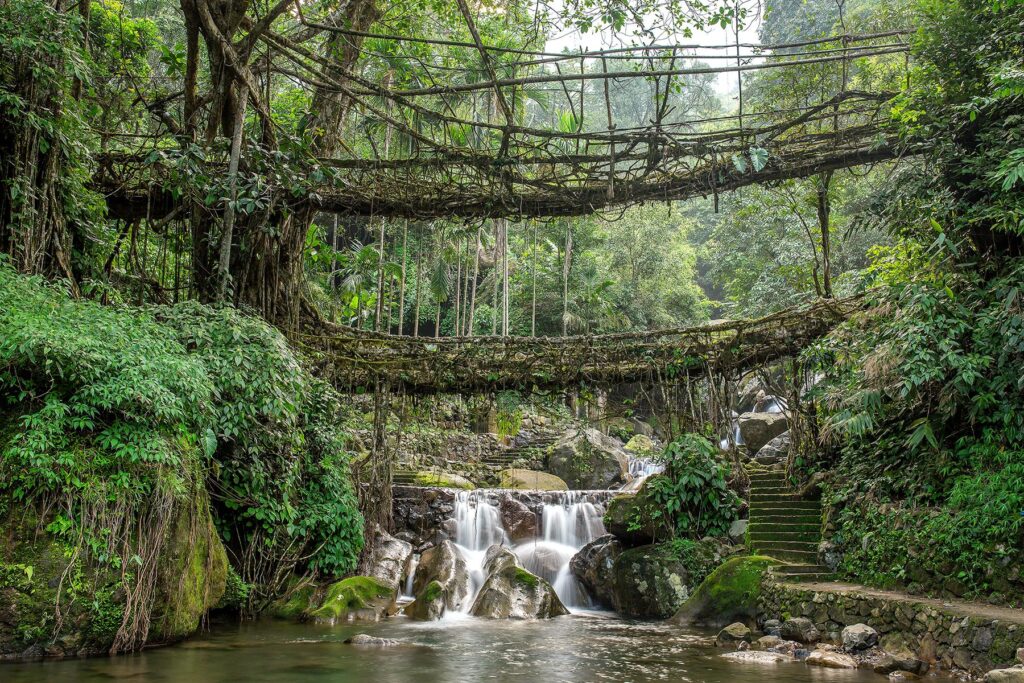 Image Credits: Fodors Travel
Shillong is the major transit point for Meghalaya. It is well connected via roads; a drive from Delhi should take about 30 hours although there will certainly be bad patches of roads in Meghalaya thanks to the mountains giving way to the occasional landslide. There is also local train connectivity from Assam. 
Meghalaya is where almost nothing has been ravaged by urbanization. The famed living root bridges of Meghalaya are a testament to this. Having been created centuries ago, these bridges made from the roots of living rubber trees continue to be a vital part of Meghalaya's local communities in the villages of Nongriat and Mawlynnong or Cherrapunjee. Waterfalls are also plentiful in Meghalaya thanks to its climate. Therefore, the number of places to see in Meghalaya are innumerable. Exploring the towns of Shillong and Cherrapunji, one of the wettest places on Earth is also a great way to imbibe local culture. 
Nagaland:
Land of the famed Nagas. Bordering Myanmar on one side and hugging Arunachal and Assam on the other is this quaint state that is home to around 14 different tribal groups. Nagaland is raw, untouched and distinct from the other states of the Northeast. Nagaland is also famous for its Hornbill festival and wide Christian population.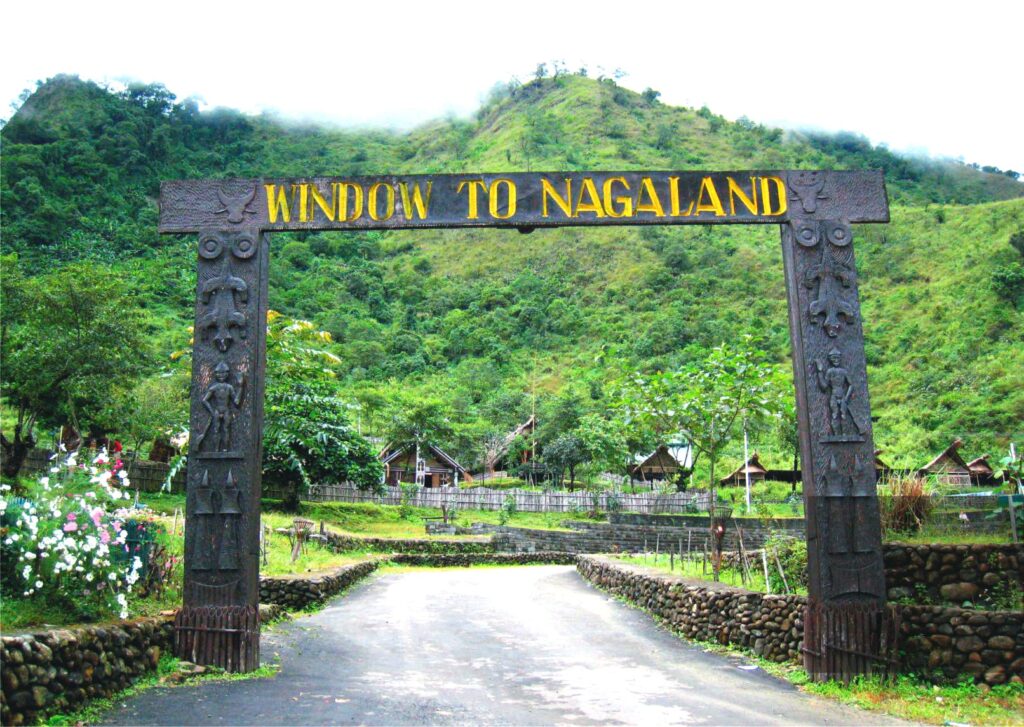 Image Credits: eletsegov
You may choose to fly in from Guwahati to Dimapur, 75km from Nagaland, although you will only get small charter flights. Dimapur is also the nearest train station to Nagaland so plan travels accordingly.  
The villages of Kohima and Kisama are your ultimate gateway to Naga culture with most of the inhabitants of these villages living the way their ancestors used to live. Mon district is also a noteworthy district that serves as a base for many tribal settlements. 
Sikkim:
The latest entrant to the band of sisters, Sikkim is a tiny state with great treasures, similar to Meghalaya in that sense. It is home to Kanchenjunga, the third-highest peak in the world. It is one of the more remote states of the Northeast and lies to the south of Tibet. The name "Sikkim" translates into "happy land", a name given by its original inhabitants, the Limbus.
Getting to Sikkim is a tricky proposition; one can take a flight from Siliguri in West Bengal to Bagdogra, the capital region of Sikkim. Bagdogra is also the major transit point for road and rail connectivity although both of these are rudimentary and time killers, so we recommend sticking to airways in this travel guide to northeast India.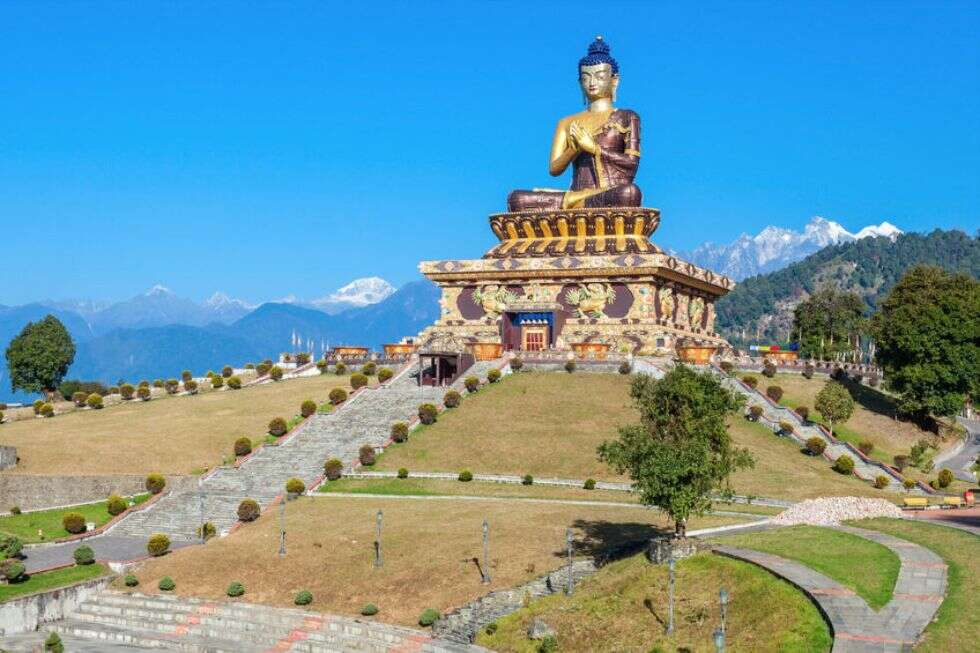 Image Credits: Femina
Gangtok is a must-visit when on your visit to Sikkim. Its beautiful roads with quaint centers provide an insight into the Indo-Tibetan life there. Sikkim is also trekking central; many small and large treks are on offer when you step into Gangtok or the smaller towns like Bagdogra. 
A few pointers to note for any visit in the Northeast are as follows: 
It is requested that all travelers respect local customs and traditions wherever you go. Whether it is food, clothing or music, the Northeast has its own unique identity that cannot be tarnished.

Some states among the Northeast require an Inner Line Permit (ILP) to travel around. A tour operator like Star will help you arrange this of course!

Don't miss the chance to visit these states especially during their festivals, when the cities come alive and the people are at their most cheerful, decked in traditional dresses.