Vietnam is a dynamic country with stunning natural beauty, including verdant rainforests, countless caves, and breathtaking mountainous and coastal terrain. Those who want adventure will find it to be a paradise on earth. One can explore the country by foot, bike, or car.
Every day will be packed with exciting new adventures that highlight the best of this country's culture and natural wonders (and sometimes an extra impromptu bike ride). Some of the highlights of trips include cycling through rural rice farms at dusk, kayaking through tranquil mangrove forests, cycling through famous mountain passes, walking through the largest cave system in the world, and camping overnight in the jungle.
No matter where you eat, on the street or in a hole-in-the-wall; the cuisine is always clean, tasty, and genuine.
Spring rolls (fried and fresh! ), banh trang nuong (Vietnamese pizza made with rice paper), pho (rice noodle bowls), bun cha (grilled pork with vermicelli), banh mi (Vietnamese sandwich), and almost anything else you pass that smells amazing should not be missed by any tourist in Vietnam. Due to the low prices, you can afford to indulge.
Local REI leaders who are both really knowledgeable and eager about making sure that tourists are safe and making sure everything runs smoothly (making your way through the country takes fair planning which is fully taken care of via REI Adventures). Aside from that, they make the trip even more memorable by spending their free time with the tourists, whether it be playing beach volleyball or eating at and drinking at some of the best local establishments.
Expedition to the Caves of Phong Nha
The two-day exploration of the Tu Lan Cave system begins with a strenuous hike through the Phong Nha area, which is home to hundreds of cave systems formed over 400 million years ago. This incredible journey begins with a level path through peanut fields and past grazing bulls and cows, surrounded by scenery that could have been lifted from Jurassic Park.
Then, there is a hike up a rocky, precipitous incline after crossing a raging river, which leads deep into the woods. The next couple of hours are spent trekking through thick jungle to reach the entrance of Hung Ton Cave, where all enjoy a delicious picnic. Before making the last descent into Tu Lan Valley for the night, tourists stop to refuel on fresh fruit, homemade banh mi, and spring rolls.
After arriving at the campground, one can explore the Ken Cave before sitting down to a Vietnamese feast fit for a king. A variety of dishes, such as bbq chicken, stewed beef, morning glory stir fry, and a vegetable omelette, are served. Strong rice wine is served all night along with "Vietnamese s' mores" (s' mores with coconut crackers instead of graham crackers).
Tu Lan Cave System Caving -The second day of the caving expedition begins with a hearty breakfast of banana pancakes, stir-fried noodles, and Vietnamese coffee. The three caverns that are explored are called Tu Lan Cave, Kim Cave, and Hung Ton Cave.
Each has its own unique difficulties, such as fording swift rivers, making their way through tight, rocky tunnels, or swimming through dark, cavernous underground passages. The towering granite formations that look like something from another planet. Incredible photographs and videos can be captured while hiking amid the stalactites and stalagmites; which actually is a once-in-a-lifetime opportunity.
Riding across the Hai Van Pass
This fabled mountain pass links Da Nang in Quang Nam with Lang Co in Hue Province and goes by the name "Pass of the Ocean Clouds." It is the country's highest pass, located at 500 metres above sea level. Thrilling vistas of exquisite beaches await the brave riders at every bend in the road, which is flanked on all sides by dense jungle and foggy mountains.
Travellers can drive, cycle, or motorbike along the legendary seaside route, depending on their preference and level of physical fitness. You should know that this is not a ride for the faint of heart before you decide to go on it.
Bike-Powered Culinary Tour
It's no secret that Vietnam is home to some of the world's finest cuisine. Bicycles are the best mode of transportation for exploring Hoi An's narrow streets. The rural bike food tours are a highlight of this trip. To get there, you cycle past fields of rice and other crops and quaint little villages, stopping at each for a bite to eat.
Cao lau, a dish of special udon-like noodles with barbecued pork and greens, is one of the highlights of such a trip and is prepared in the home of a local woman. Along the riverbank, one can dine on barbecue meats, stir-fried noodles, and crispy Vietnamese rice paper snacks, sampling a wide variety of traditional Vietnamese cuisine. Bright lanterns line the river at night, creating a picturesque backdrop. Hoi An is famous for its bright lanterns.
Mangrove Kayaking with Yoga in the Morning
Every adventure doesn't have to be a gruelling one. One can get up before sunrise and go to a nearby temple to do some yoga and meditation. After such a peaceful morning, you can go kayaking through a calm mangrove jungle. Kayaking is serene and tranquil despite being surrounded by coconut palms, mangrove trees, and the occasional wild basket boat full of visitors.
You can spend many hours paddling over calm water and exploring the coastline before stopping for lunch on a deserted beach. This tour to Vietnam would be a relaxing one in spite of all the fun activities you might indulge yourself in.
Some offbeat experiences
The Festival of Lighted Paper Lanterns in Hoi An
A beautiful scene is created for the paper lantern festival by lighting up the area around the Hoai river and the old town with recyclable paper lanterns. With a nod to eco-friendliness, the colourful paper lanterns are lit with candles, making for a mystical experience under the moon. It's beautiful to stand on the riverbank and see the reflected lights from the neighbouring buildings. This is best seen in Hoi An near the intersection of the Japanese Covered Bridge and the Cau An Hoi Bridge.
Vietnamese Street Food at the Hoi An Evening Market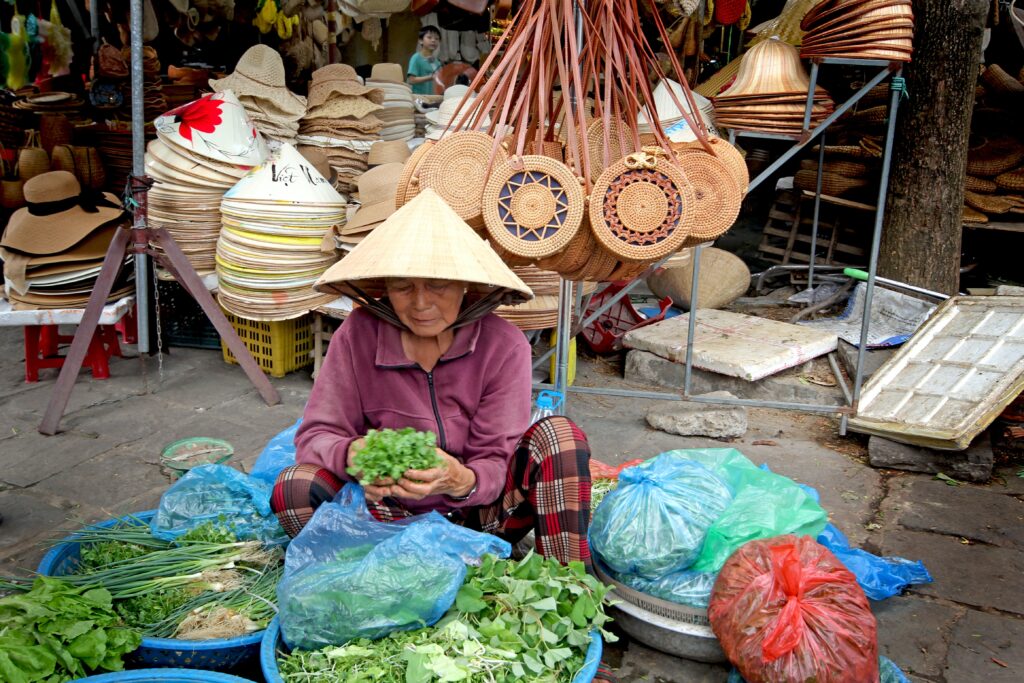 Over 50 merchants sell organic and locally sourced cuisine, exotic delicacies, apparel, jewellery, and accessories at the Hoi An Night market on a 300-metre-long boulevard overlooking the Thu Bon River, generating income for the local population. Protein-rich insect delights like roasted silkworm pupae are among the most sought-after snacks on the streets. Foods like fried grasshoppers and crickets, roasted stink bugs with lemon leaves, roasted ant eggs, and more are popular among visitors. A must-try is the Vietnamese crepe Banh Xeo, which is made with rice flour, turmeric, and coconut milk and has a crunchy outside.
Bana Hills' Cable Car and Golden Bridge
The Golden Bridge and Cable Car at Ba Na Hills hold multiple Guinness World Records, including those for biggest change in elevation, heaviest cable, and greatest gap. You'll feel like you're riding into the future along this five-kilometre path. You can expect breathtaking panoramas of Danang and the surrounding forests from the iconic Golden Bridge, which is supported by a pair of huge hands.
Adventure on a Coconut Boat
In Hoi An, you can take a 30-minute ride on a basket boat and take in the beautiful coastal scenery and local way of life. The round design of the boat makes it easy for everyone to get a comfortable seat, and passengers can even try their hand at rowing. Enjoy a leisurely float down the winding canal while stopping to snap photos and ogle the expertise of your local guides. The country has a high biodiversity ranking and is well-known for its efforts to conserve endangered species and promote sustainable tourism while safeguarding the rights of indigenous people and their cultural traditions and landscapes.
Embark on a Romantic Saigon Dinner Cruise
As you fly over Ho Chi Minh City, glittering lights illuminate the night. A luxurious dinner cruise is the ideal opportunity to see the city's monuments illuminated at night, listen to live local music, and enjoy a panoramic view of the Bitexco Tower. Vietnamese food is known for being rich in flavour and using only the freshest local ingredients.
3D Art Exhibit by Artinus
Optical illusions and pieces by well-known local artists share space at this, Ho Chi Minh City's first 3D museum. Tourists who wish to see a different side of the huge city often come here. The artworks combine light effects and painting techniques to create an optical illusion, transporting viewers inside the caves, on the bridges above the seas, get into a fight with a T-Rex. This two-story museum is perfect for families, since it houses intriguing pieces from nine distinct categories. Giant optical illusions can be found in numerous locations, including the Ocean, Animals, Masterpiece, Vietnam, Egypt, Fairy Tales, Giants, Strange House, and Love.
The Vietnamese Kitchen: A Cultural Journey
Vietnam is undeniably a gourmet heaven, thanks to the country's uniquely delicious regional cuisines. An integral part of this cuisine is the numerous noodle dishes available. White, green, yellow, red, and black are the most common colours used in Vietnamese cuisine, so you can tell at a glance what you're eating. There are chefs available for private lessons or classes, making it a fun and social way to expand one's culinary horizons.
The Buzz About the Bee Farm
A trip to the Island near the Saigon Delta reveals the dedication of the locals to providing community-curated local tours and protecting the natural environment. Understanding the process of making honey and the cooperative nature of bees is illuminating. Honey tea, a local delicacy brewed from raw honey and lemons cultivated on the island, is served to visitors as a healthy snack. We also stock royal jelly, which has been reported to strengthen the immune system.
Tunnels at Cu Chi
The Cu Chi tunnels are a great representation of the Vietnamese people's determination and resourcefulness, and they also serve as a model for how to protect the natural world while highlighting the country's rich cultural legacy. There is a massive network of tunnels that Vietnamese soldiers dug during the war; these tunnels have been rebuilt and outfitted with a few facilities so that tourists can experience what the Vietnamese soldiers went through.
Crafting the conventional rice paper
Vietnamese people absolutely love bánh tráng, also known as bánh a nem, which is edible rice paper. White rice flour, tapioca flour, salt, and water are the four main components of the food rice paper. These days, you can get them in a variety of flavours, including salted shrimp, coconut, and even the powerful durian fruit. The majority of American households regularly include them in their weekly meal plans. You can fry them, roast them over an open flame, or snack on them like crackers. The mass-produced versions can't compare to a handmade item.