Resorts in Maldives – Maldives Vacation 2020 – The Best Luxury Resorts
Widely considered to be the planet's most desirable and exclusive holiday destination, the Maldives are the ultimate tropical paradise destinations for honeymooners, sun worshippers, scuba divers, surfers, and of course, celebrities. The Maldives are a collection of more than thousand small coral atolls, located on the equator towards the south of India and stretching across 800 kilometers of the Indian Ocean on a north-south axis. The islands are a visual retreat and are the visible coral tips of an oceanic volcanic mountain range. The islands are blessed with some of the world's most beautiful beaches, crystal clear turquoise water lagoons, marvelous underwater life and unparalleled luxury resorts that take up their own private islands.
The following is my list of the most marvelous luxury resorts in the island paradise of Maldives.
5) LUX* Resort at North Male Atoll
The LUX* Resort at North Male Atoll is the second resort in the Maldives by Mauritius based hotel group LUX* Resorts. Titled 'The Most Innovative Luxury Resort' in The Maldives, it is accessible by a luxury speedboat or a very short fifteen minute seaplane transfer from Velana International Airport and has eye catching architecture and oceanic interiors. Inside The resort – A visual banquet of various nautical shapes and dynamic colors, the resort is elegantly and exquisitely decorated by the Singapore design group Miaja, a project that combines superyachts with the energetic spirit of southern beaches. Each of the 67 two-story residences is located either on the beach or above the water, whose guests will enjoy a minimum living area of 350 square meters. Whether set on
the beach or stilted over the crystal blue lagoon, every penthouse villa takes indoor-outdoor living to a new level of breezy sophistication. Big Green Egg Barbecue, Rooftop Bar, Cinema and SONOS, Yoga Pavilion, Star-lit Jacuzzi and Outdoor Games help create an unforgettable paradise lounge for people who love to enjoy life.
4) Banyan Tree Vabbinfaru
This resort hosts the best house reef in The Maldives, Banyan Tree Vabbinfaru is considered as the best Banyan Tree of them all. A sanctuary of supremely pristine tropical beauty, and crystal blue waters, this luxury boutique resort offers its signature hospitality paired with the extremely majestic views of the glorious Indian Ocean, creating the perfect match and one you will never want to leave.
Inside The Resort – Highlights of Banyan Tree Vabbinfaru includes fresh and delicious dining choices in breathtaking surroundings, a PADI Dive Center for the adventurous souls, and stunning villas that seamlessly integrate with its natural habitat. Take advantage of their award-winning spa and healing philosophies to guide your way to inner peace and tranquillity at Banyan Tree Vabbinfaru. The resort has panoramic ocean views, plus free Wi-Fi, a beauty centre and an express
check-in and check-out feature. It offers babysitting services, a currency exchange and a reception that operates 24/7. It also has a gym with a swimming pool. Rooms at Banyan Tree Vabbinfaru Vabbinfaru provide a stylish space to unwind, complete with a mini bar. They all offer wireless internet access, newspapers and a telephone. Guests of the resort can sit down to breakfast each morning at Sangu Garden Restaurant, as well as dinner at Ilaafathi Restaurant served every night.
Banyan Tree Vabbinfaru Vabbinfaru is within walking distance of Angsana. For those wishing to discover the great outdoors, the resort is close to prime fishing and scenic
spots.
3) Four Seasons Resort Maldives at Kuda Huura –
A twenty five minute luxury speedboat ride away from the capital of Maldives, Male, you will find yourself in Kuda Huura and the Four Seasons Resort on this island is a luxury garden island resort is the most spectacular destination for travellers across the globe looking for the crystal turquoise waters and a pristine tropical getaway. A dinner under the stars near the waters or a romantic getaway cruise to family retreats and rejuvenation, Four Seasons will personalize your vacation.
Inside The Resort – A sauna, an outdoor pool and 5-star accommodation are on offer at Four
Seasons Resort Maldives at Kuda Huraa. The numerous amenities this traditional resort offers include a kids club, a kids pool and a beauty centre. The resort has 96 rooms and has been recently refurbished. Airport transfers, a laundry service
and babysitting/child services are available upon request. Four Seasons Resort Maldives at Kuda Huraa Male is within walking distance of Kanuhuraa.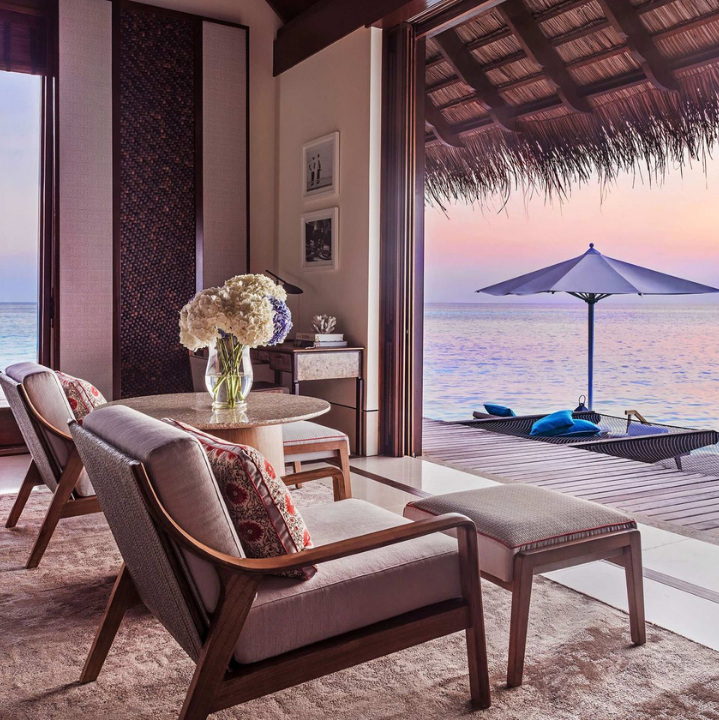 2) One&Only Reethi – Rah –
This island has plenty of palm trees, fresh salty ocean air flowing past you when you walk, balmy sea breeze and endless stretches of crystal turquoise water all around you. The shoreline is made of white sand and is located to the North of Male, in Reethi – Rah, One&Only floats like a jewel among a string of coral islands, lagoons and white sands. Inside The Resort – The room options range from Beach Villa, Water Villa to the Grand Sunset Residency, which will make you feel exceptionally comfortable. Each private villa features a flow of indoor-outdoor living with open access to decks, pools, hot tubs, and the ocean itself lying only metres from your sliding glass bedroom doors. This
island retreat has an extensively impressive culinary menu offering international cuisines for foodies of every flare, a luxurious spa treatment centre, and superb diving & snorkelling. If you're looking for a secluded oasis of serenity and beauty, transcendent luxury, and an unforgettable villa stay experience One&Only Resorts is for you.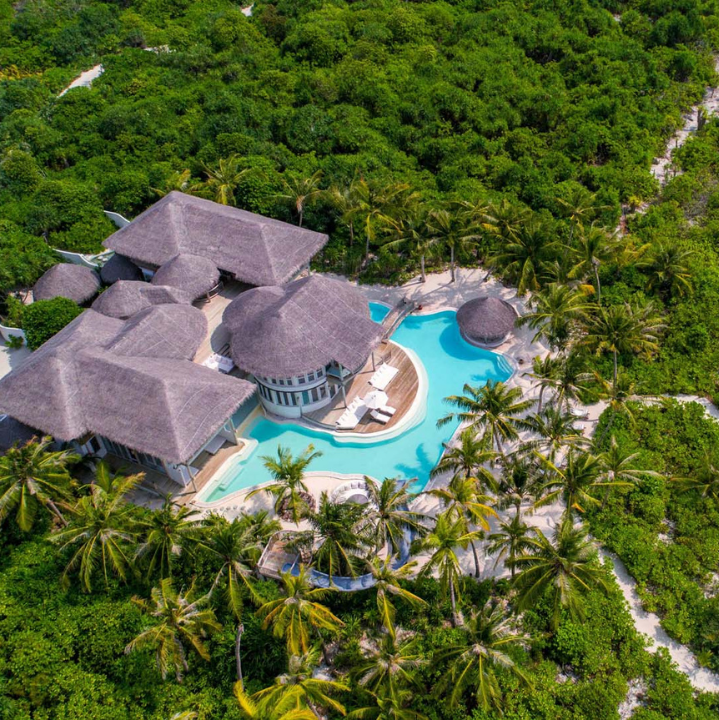 1) Soneva Jani –
This resort is located on an uninhabited five-island cluster in the Noonu Atoll, the Maldives' most exclusive resort and is completely fringed by pristine beaches, blanketed with lush tropical greenery, and surrounded by a 5.6 kilometers of crystal clear water lagoons with uninterrupted views of the Indian Ocean. If you want the ultimate tropical paradise getaway on Planet Earth, Soneva Jani is the right resort for you! Inside The Resort – Each one of the 24 water villas has a private lap pool and opens to its own stretch of lagoon, with some villas featuring slides going directly from the top deck into the lagoon below. The highlight of the villas is the retractable roof in the master bedroom, which slides back at the touch of a button so that guests can lie in bed and stargaze. The culinary experiences at Soneva Jani are as diverse as you can imagine: in addition to the delightful dining venues, you can indulge in culinary adventures such as private dining around the lagoon, a Robinson Crusoe-style castaway picnic, organic garden lunches and cooking classes. The resort's selection of experiences caters to every kind of traveler and includes everything from nature
walks and spa treatments to lazy picnics and beyond
Star Vacations is currently in the seaside mood, and we've got special offers for luxury Maldives vacations just for you. Plan the perfect Maldives vacation and add a Maldives diving course, Maldives Snorkeling, Maldives Submarine Tours to your itinerary to spice up your trip!
Please fill out the form and, We will get in touch with you to discuss the details of Resorts in Maldives . Or  contact us  +91 9582896591