Foods in Africa
Africa is a continent which has numerous attractions. Holiday goers often choose Africa because of the warm, friendly and energetic people, natural wonders and a sunny climate. Due to this, millions of tourists visit Africa every year. The most interesting thing about Africa is what food the people eat in various regions. African cuisine is diverse and African foods are delicious and if you desire, decadent as well. Tasting the sumptuous dishes also opens your eyes to the gateway of the very essential tribes and races on Planet Earth today. The typical African meal pays a great deal of consideration to detail, and you will notice that the cooks employ a rich array of base ingredients, spices as well as other condiments to create a culinary paradise. Ranging from the desert lands in the North to the lush greens of the West and the Sahel plains of the East, Africa has a lot to offer on the dinner plate as every region will serve a delicacy that will surpass your expectations. Here are some of the tastiest foods to try in Africa –
Foods in Africa – Jollof Rice (West Africa)  Image Credits – African Bites
Jollof Rice (West Africa)  – Jollof Rice is a meal prepared in the West African sub region where a fierce rivalry takes place between Nigerians, Ghanians and Sengalese people as to who makes the dish best, with the latter laying claim to own the most delicious variety. At its most basic and fundamental form, Jollof Rice is a pot of rice prepared with tomato sauce and served with fish or meat. Jollof rice is accompanied by chicken also sometimes.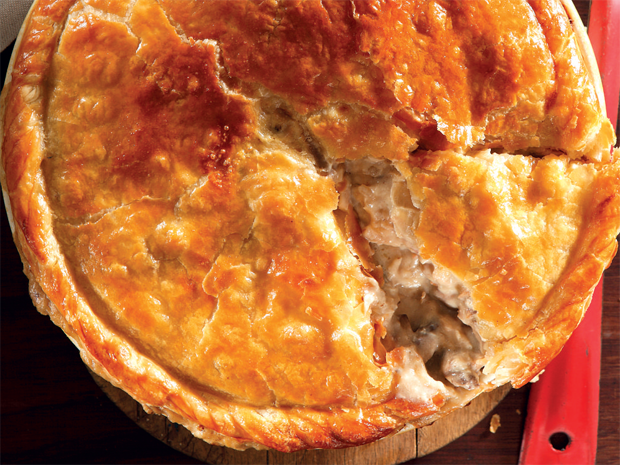 Foods in Africa – Hoenderpastei (South Africa) Image Credits – netwerk24.com
Hoenderpastei (South Africa)  – Hoenderpastei is a South African dish consisting of a short crust pastry shell filled with pieces of chicken, vegetables such as onions, tomatoes, carrots and celery, hard boiled eggs and lastly, bay leaves. Hoenderpastei is a simple yet highly delicious street food favourite among foodies in South Africa.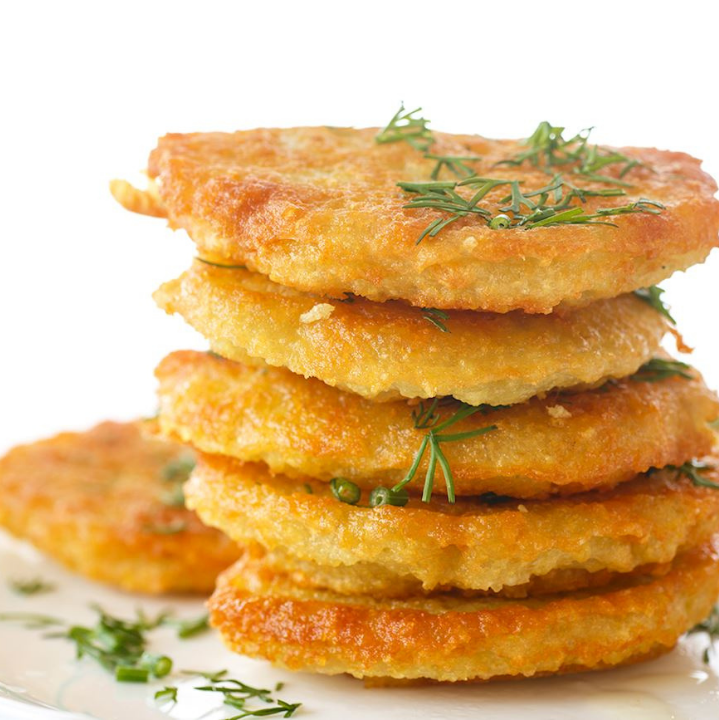 Foods in Africa – Maakouda (Morocco, Algeria and Tunisia) Image Credits – tasteatlas.com
Maakouda (Morocco, Algeria and Tunisia)  – Maakouda are traditional potato fritters that are highly popular throughout the Maghreb, especially in Morocco, Algeria and Tunisia. The fritters are usually prepared plain but can be stuffed with tuna, cheese, meat and other fillings too. They are made with yeast, flour, garlic, parsley and potatoes. The potatoes are then boiled and mashed into small disks and are then deep fried in hot oil until they become golden brown. Maakouda is traditionally served as an appetizer, a small dish or as a filling in sub sandwiches and is served with Harissa, Coriander and Lemon Juice. Maakouda is a really popular street food in Africa.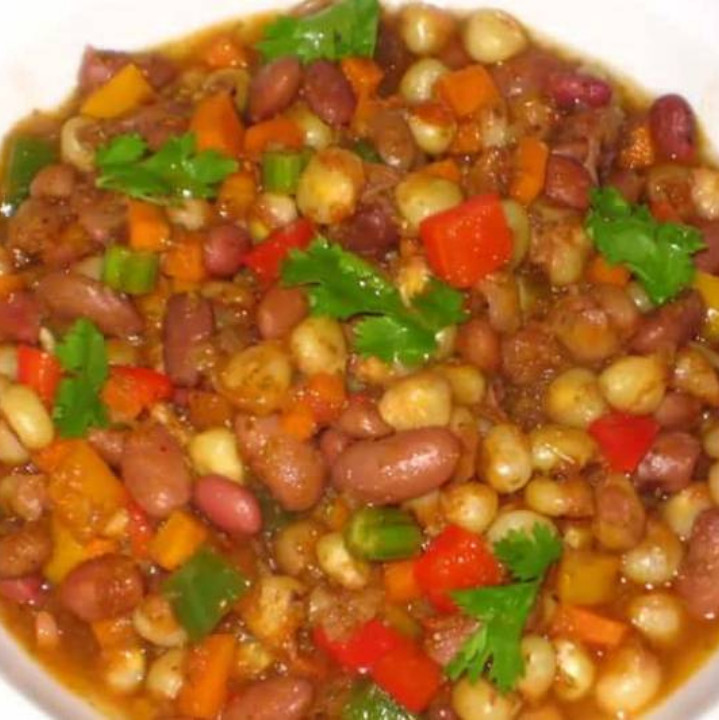 Foods in Africa – Githeri (Kenya) Image Credits – cookpad.com
Githeri (Kenya)  – Githeri is a really famous staple food from Kenya consisting of beans and maize that are stewed with onions, tomatoes, and sometimes potatoes or meat chunks. The stew is often flavoured with Cumin, Turmeric or Chilli Powder. Traditionally, it is served alone but it can also be served with rice or crusty bread on the side. This African food originates from the Kikuyu Tribe living in Central Kenya.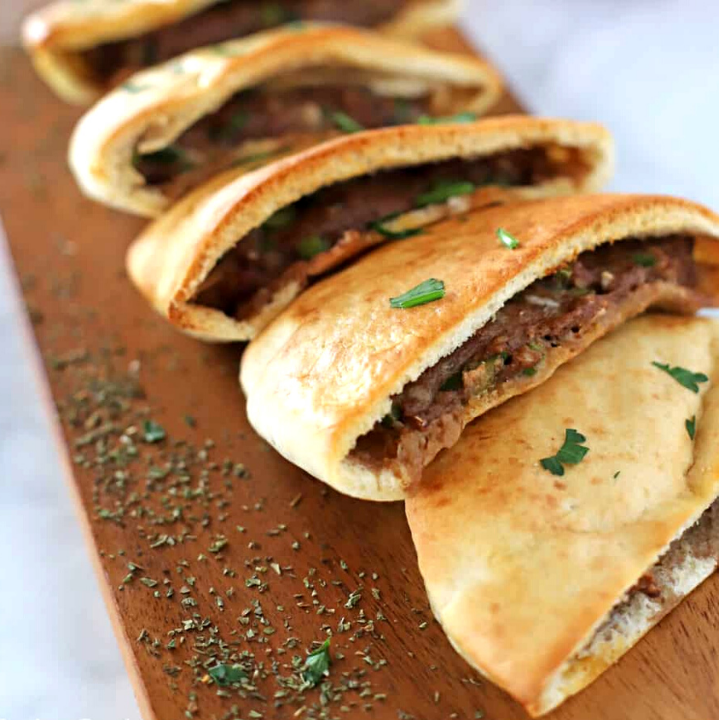 Foods in Africa – Hawawshi (Egypt) Image Credits – amiraspantry.com
 Hawawshi (Egypt)  – Hawawshi is an extremely popular Egyptian snack consisting of a traditional Baladi bread, which is very similar to Pita bread pockets in appearance and is then stuffed or filled with a delicious and spicy mixture of minced meat, spices and vegetables. The sumptuous minced meat mixture, after being placed inside the bread with added spices and vegetables is baked until all the flavours combine and the bread takes a light golden colour and a crispy texture. Whether enjoyed at home or at various food establishments, Hawawshi is a treat to enjoy and is usually served alongside fresh vegetables, salads and various dips.
Foods in Africa Samak Mashwi (Egypt) Image Credits – cookingchanneltv.com
Samak Mashwi (Egypt) – This African food dish is an Egyptian dish that is enjoyed widely in Lebanon surprisingly. Samak Mashwi consists of a whole baked fish which is then beautifully garnished with Parsley, Lemon slices, Mayonnaise, Pickles and Sliced Olives. The fish should be completely cleaned before baking except for its head should remain untouched and its eyes should be removed. It is typically seasoned with salt and olive oil.
Foods in Africa – Moin Moin (Nigeria) Image Credits – .wikiwand.com
Moin Moin (Nigeria) – This is a Nigerian Dish, called Moin Moin, which consists of ground beans or black eyed peas, and freshly ground pepper such a bell pepper, Chili and Scotch Bonnet. This African food is usually served as an accompaniment to Jollof Rice, Fried Plantains and Akamu. It can very well be consumed on its own as a snack too. Moin Moin is extremely popular in Nigeria and neighbouring countries in Africa.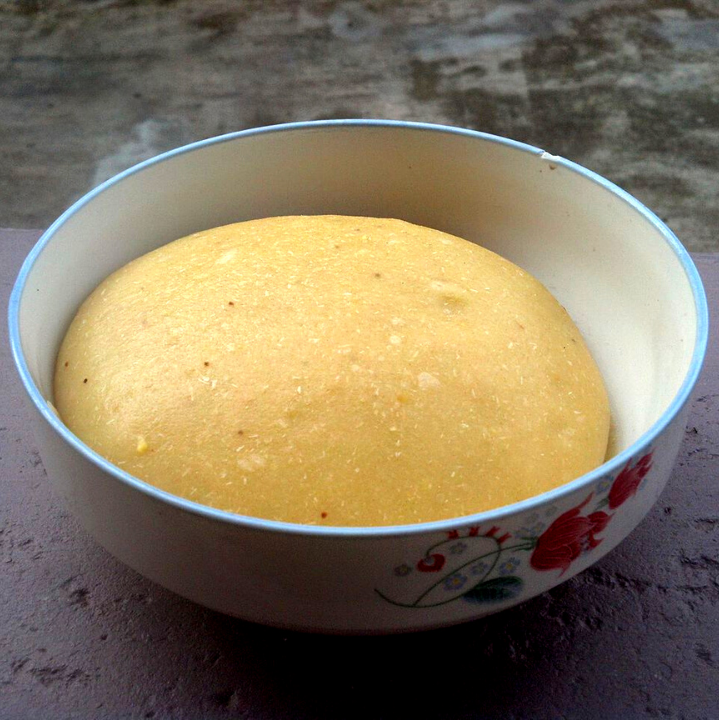 Moin Moin (Nigeria) Image Credits – wikimedia.org
Fufu (Ghana) – Fufu is a Ghanian dish which is extremely difficult to make. The long process starts by pounding a Cassava and unripe plantains together with a big wooden pole and mashing them together while adding water. As it needs to be stirred vigorously and continuously, it requires two people to make it, one pounding it and the other moving it around in between the pounding. Once the mixture is smooth, it gets shaped into small balls that are then placed in a stew or soup with meat. Similar to the Tanzanian ugali, an indentation is made in the ball, used for scooping up the sauce, with fufu acting as a spoon. The texture is quite gummy and stretchy, while the flavour is bland, but dipping it into a stew gives fufu a spicy flavour that is slightly reminiscent of peanuts.
Tanjia (Morocco) Image Credits – atlasobscura.com
 Tanjia (Morocco) – This African food called 'Tanjia' is a Moroccan speciality which is made by cooking sheep meat in a clay urn alongside flavourings such as Saffron, Cumin, Garlic, Lemon and Olive Oil. This dish is extensively popular in Marrakech where the urns are filled with all the ingredients and then placed in coals in a public bath (hammam) to cook the meat overnight till the meat slowly is so tender that it falls off the bone. Originally, this dish was created by men who were picnic-goers and would spend their time outside during the day.
Tibs (Ethiopia) Image Credits – Daniele Bora
Tibs (Ethiopia) – Tibs is an Ethiopian dish consisting of stir-fried meat and vegetables. This African dish can be served in many ways, such as ranging from mild to hot and containing little or lots or no vegetables at all. Due to the extensively wide array of meat used in this dish, this Ethiopian delicacy has a lot of varieties. Tibs is usually prepared as a sign of respect to someone or a festive dish at special events or holidays.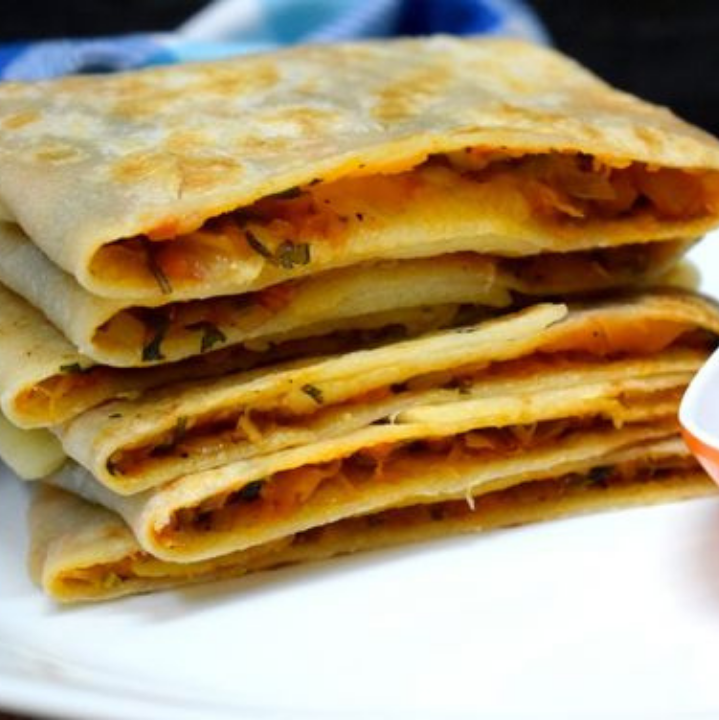 Mahjouba (Algeria) Image Credits – cooking4allseasons.com
Mahjouba (Algeria) – Mahjouba is a traditional Algerian pancake that is one of the most popular street food items in the country. These thick and flaky pancakes are made with semolina, then filled with a combination of tomatoes and caramelised onions. Mahjouba is often paired with harissa sauce on the side, but the condiment is completely optional.
Nyama Choma (Kenya) Image Credits – internationalcuisine.com
Nyama Choma (Kenya) – Nyama Choma is Kenya's unofficial national dish, meaning barbecued meat in the Swahili language. The meat is usually goat or beef, served roasted throughout the country, from roadside shacks to fine restaurants. It is often paired with local beer and side dishes such as ugali.
Attiéké (Ivory Coast) Image Credits – internationalcuisine.com
Attiéké (Ivory Coast) – This African dish is a traditional dish consisting of fermented and ground cassava roots. It is usually accompanied by sliced onions, tomatoes, grilled chicken, or fried fish. This tasty dish is consumed by people of all ages for breakfast, lunch, and dinner, although it is traditionally prepared exclusively by women. It can be bought at numerous local markets, either in individual portions or large bags.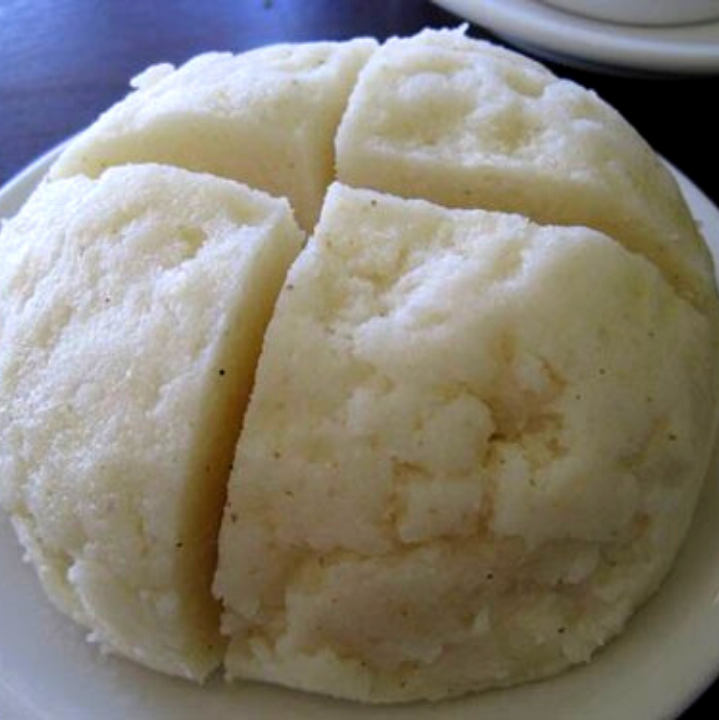 Ugali (Tanzania) Image Credits – recipesaroundtheworld.com
Ugali (Tanzania)  – This is an exceptionally unique, polenta-like side dish. It is a huge favourite among local Tanzanians. Made by rolling a tiny bit of creamy and thick cornmeal paste (made from cooked white maize) until it forms into a ball and making an indention in it with a thumb, Ugali becomes an edible spoon that is dipped into various other dishes, sauces and stews. The sign of an Ugali made well is that it shouldn't stick to your fingers at all. The whole thing is usually dipped in a savoury sauce, then placed in the mouth for consumption. Ugali is more than just a taste; it is a food culture in itself. This dish is usually served with whatever meat is available, mashed vegetables, stews, or sour milk. It is found all throughout Africa, it is not just a Tanzanian dish, in South Africa, it is called 'Pap', in Zimbabwe, it is called 'Sadza', and in Zambia, it is called 'Nshima'. Regardless of the name, this dish's popularity in Africa is unparalleled.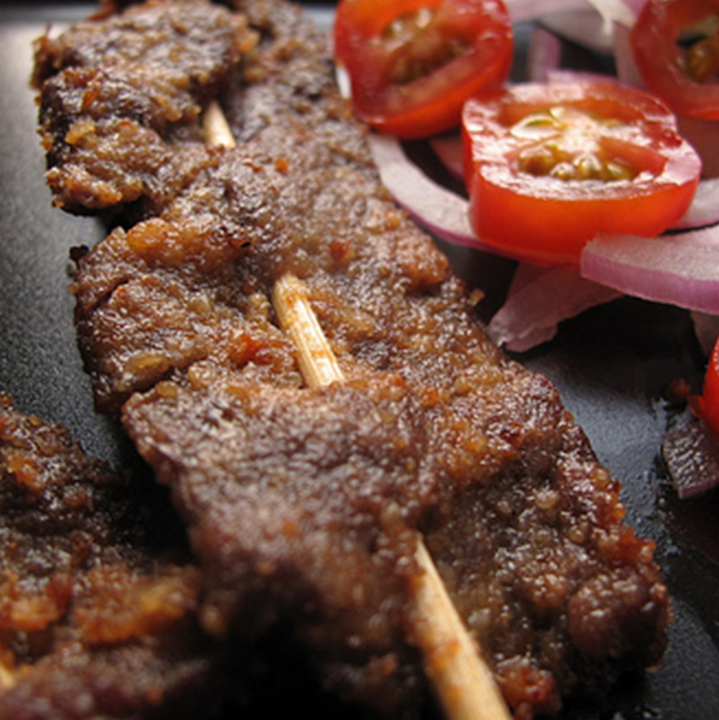 Suya (Nigeria) Image Credits – samisonline.com
Suya (Nigeria) – This dish is believed to have originated among the Hausa people as this Nigerian dish employs thin slices of beef or chicken that are generously seasoned and are then roasted over charcoal grills. The essential ingredient of this dish is a dry spice blend known as Suya or Yaji which is made from Ground Peanuts and Red Peppers. The spice blend is versatile, and depending on the region, it may incorporate various additional ingredients. In Nigeria, the skewers are usually sold individually and are mainly enjoyed on the go as a quick, cheap, and nutritious snack. In restaurants, they are often paired with vegetables such as sliced onions or tomatoes. Along with being a staple throughout Nigeria, Suya is also found in other parts of Western Africa.
Are you looking to travel & explore the world ?
We've got special offers for travel around the world just for you. Plan the perfect vacation with us,  Please fill out the form, or Contact us  +91 9582896591,  We will get in touch with you to discuss the details.