Egypt is the land of the pharaohs and one of the greatest civilisations of human history. The gleaming sands of Egypt are the perfect location for your next holiday in 2021. There is no dearth of things to see and do in Egypt. With the advent of the 2020 coronavirus pandemic, Egypt was one of the many countries under lockdown. However, there are strong indications that Egypt will fully reopen for tourists from all over the world in 2021, and this is the perfect time to plan your Egypt holiday in 2021 with Star Vacations to get the best rates and best experiences. 
As with any country, Egypt is a diverse country with a multitude of experiences to share with your loved ones. However, there are certain things to know when visiting the land of the pharaohs. Here's the Star Vacations guide to visiting Egypt in 2021 and beyond. This guide covers your visa information, flight information, some general guidelines on safety in Egypt, why you should stick to a 
Getting to Egypt:

If you are planning your Egypt vacation from India, then flights are the most hassle-free experience. Flights to Egypt are a regular affair with most major Indian carriers with stringent health protocols in place. Cairo is the main port of entry for flights and is the best place to start your Egypt trip as most monuments and sights of Egypt are within driving distance from Cairo. Sharm El Sheik International Airport is the other major airport in Egypt. 
For Indians travelling to Egypt, a tourist visa is required and must be applied for in advance, and a visa on arrival is not an option. The visa must also be applied for in-person and is valid for 90 days. The best way to obtain a visa is to contact the local consulate in Mumbai, although you may also ask us for assistance while we're planning your Egypt vacation! 
Getting Around Egypt:

Egypt is well connected and has a long expansive road network. You can opt for a self-drive car at the airport or hire a luxury taxi to take you around the sights of Egypt but owing to the civil unrest and an uncertain hiring network in the different cities, it is usually safer to have a professional make the travel arrangements for you. Bus facilities are also available in most major towns and within Cairo by the Cairo Transport Authority. Of course, you can also opt for ferries and cruises on the Nile, a topic that we will get to later. Egypt also has a rail network between its cities, but it is not recommended to use the railways as they are outdated and generally considered a hindrance. In comparison, Egypt's domestic airline carriers are low cost and get you to various cities much quicker. There are several connecting flights within all major cities of Egypt: Cairo, Luxor, Aswan, Sharm El Sheikh and more. The main carriers are Egyptair and Nile Air. 
What To See In Egypt: 
It's no surprise that the very first item on any Egypt holiday's list is a pyramid. Well, three. The Pyramids of Giza are the dream of every traveller at least once in life. Located a mere 13km from Cairo, the Giza Necropolis contains the three pyramids and the Great Sphinx. These hold some of the greatest secrets of the Old World, 4500 years old. The largest pyramid holds the sarcophagus and tomb of the Egyptian pharaoh Khufu and can be accessed through "robber's doors" around the pyramids.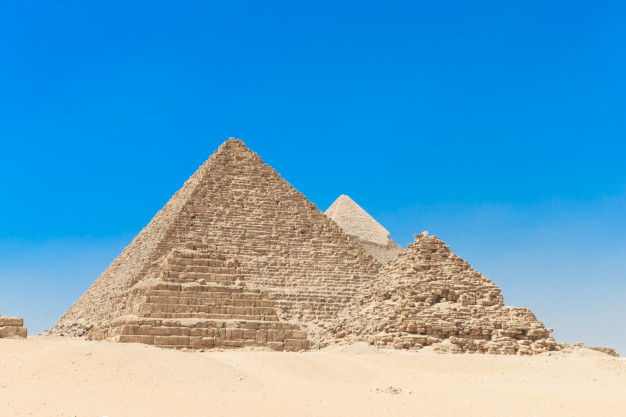 However, the pyramids are but one huge puzzle in Egypt's history. Indeed the pyramids themselves are pretty hollowed out now, and the real treasures of Egypt are actually located within their museums. The Museum Of Antiquities contains actual relics from Egypt's past and even a room with the actual mummified versions of Tutankhamun and Ramses, the great pharaohs. 
Recent discoveries in the past year have unearthed even more sarcophagi and tombs around the Giza pyramids. Containing mummified people who were buried over 2500 years ago during the Ptolemaic Dynasty, the same era as Cleopatra. These sarcophagi are located at Saqqara, not very far away from the Giza Necropolis. Some in almost pristine condition. One can only wonder as to how they managed to remain unnoticed all these years. One of the many mysteries you'll be witness to on your future Egypt holiday.  
Want to explore the lifeline of Egypt? A luxury cruise down one of the world's longest rivers is certainly the way to go. These serene, fresh waters nourish the banks of Egypt and make the entire land fertile. The banks of the Nile play host to various temples like the Kom Ombo, the only temple dedicated to the crocodile god Sobek which should give you an idea as to why it was built near a river.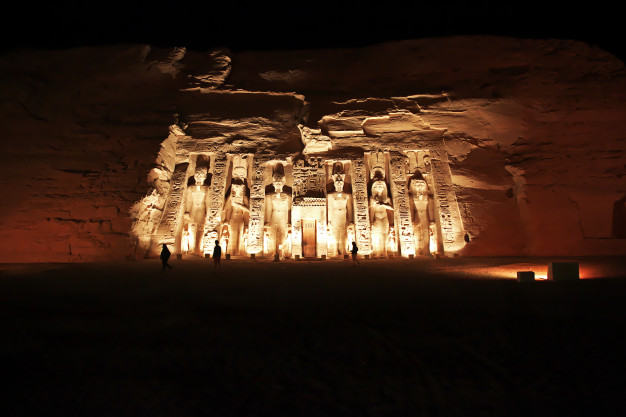 When it comes to river cruises, you have two options. You can take a conventional river cruise boat that is similar to cruise liners but smaller in size. These are a little more familiar and are for people who would like to socialize onboard during their river cruise. But for those that want a much more holistic Egypt experience, a Dahabiya is the way to go. These are traditional Egyptian sailing boats that were originally used to ferry the rich across the Nile from Cairo to Aswan. Today, they are coming back to life thanks to the locals. 
What To Eat In Egypt:

Egypt's culinary delights include a mix of both seafood and meat, featuring contemporary Arabian cuisine. From Taameya on the streets of Alexandria and Cairo to fine dining at Le Meridien Pyramid, there is a choice of food for every kind of palate. Treat yourself to an Egyptian Mezze during lunch: A multicourse meal with small portions of Egyptian delicacies. The national dish of Egypt is a surprisingly wholesome food known as Koshary, a mix of rice, lentils, vegetables and meat. Baba Ghanoujh is a more popular dish, the familiar aubergine puree that goes extremely well with pita bread. One of the more unique dishes of Egypt is a preparation of the jute plant. Yes, the same plant from which we get jute fibre! Known as Molokhia this dish is a classic Egyptian dish owing to the abundance of jute in the region.
But don't think Egypt has no choices for vegetarians. The bylanes around the souks can be filled with the aroma of charcoal-grilled meat on most days. Shawarma, a wrap with grilled meats and vegetables and dressing is an Egyptian street food special. For the adventurous, camel meat is another must-try when on an Egypt holiday. And for a quick bite en route your next destination, grab a hawawshi, a bread with minced meat and spices stuffed in it.  
Craving a sweet after a round of dining? Baklava is also quite common in Egypt. Let your senses be taken over by a decadent slice of Feteer, a layered pie made with flour, heaps of butter and sugar and nuts. And to finally wash all of that delicious food down, there's always Egyptian Tea. Tea in Egypt is a mandatory accompaniment with almost every meal, in fact. Koshary tea is a staple of Egypt brewed with cane sugar and mint leaves. There's also Hibiscus tea known as Karakade brewed with the petals of the flower. 
Where To Stay In Egypt:
For an exquisite Egyptian experience, you can't beat staying near the pyramids in a luxury hotel. Le Meridien Pyramid, our partner hotel in Egypt, offers unparalleled views of the pyramids from every room along with timeless Egyptian hospitality and some of the best cuisine available. Soak up the sights as you splash around the pool at Le Meridien during the sunset.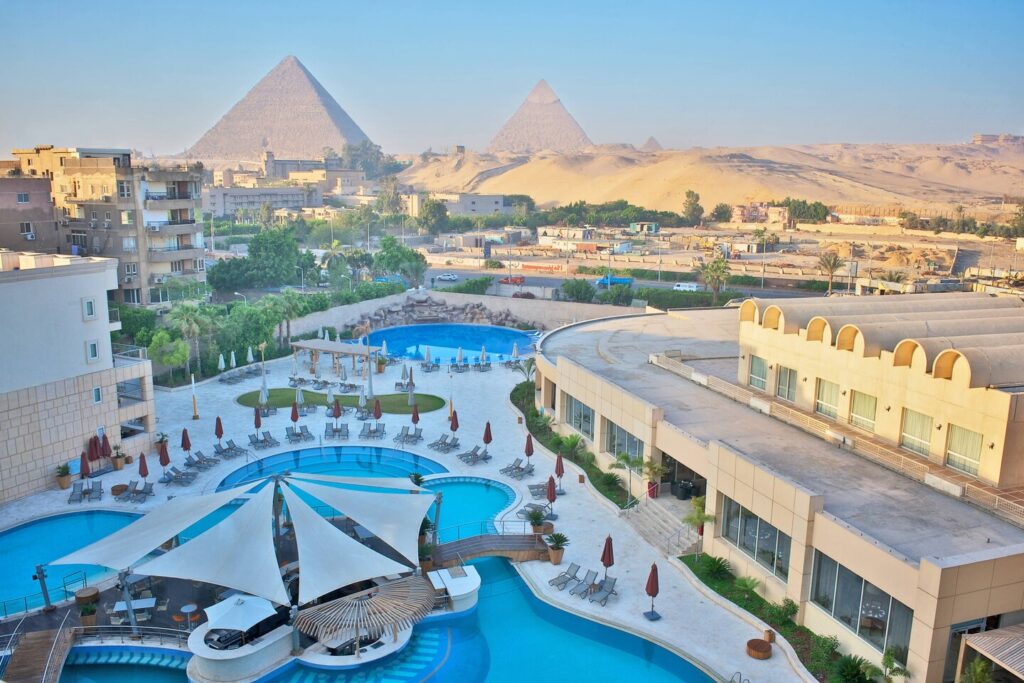 Image Credits : Le Méridien Pyramids Hotel
Safety In Egypt: 
Despite all the fears over civil unrest in Egypt, safety in the main cities is of minimal concern these days. Egyptians are extremely hospitable and you will have no trouble getting around town. Keeping to the well-lit areas of Egypt at night and respecting local customs ensures that your safety is also not compromised by accident. Follow general rules in special places like the pyramids (no videography is allowed inside the tombs for instance) and you should be okay!